I read with some surprise that Coca-Cola Great Britain (CCGB) is overhauling its product lineup by rebranding and reformulating Coke Zero to become Coca-Cola Zero Sugar.
What surprised me was not CCGB's tactical response to the UK's impending sugar tax. It's wise for all soft drinks companies to duck and parry in the face of increasing attacks from the health lobby.  No, what amazed me was fact offered up by the drinks giant to support the rationale behind yet another round of re-skinning and re-positioning. According to Marketing magazine,  research from 2015 showed that "half of consumers did not realise Coke Zero was sugar free."
That's right. Fifty percent (50%) of consumers do not understand the core proposition that's been clearly emblazoned on Coke Zero's packaging for over a decade.
This surely raises two fundamental questions. The first relates to marketing communications. If the mighty Coke, with all its resources and expertise can't – over a 10 year period – educate consumers about the nutritional qualities of a product, what hope is there for public health organisations?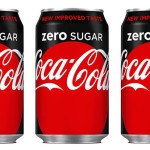 This summer, Coke Zero Sugar will be promoted in the UK with a sexy new design and a £10m campaign, securing its newfound status as the hero brand of CCGB's portfolio. In contrast Public Health England reportedly spent £5m in Q1/16 on a flagship campaign promoting a sugar-checking app.
Before you jump to any conclusions, or urge the Government to blow some more cash, let's pause and refresh our memories… Coke Zero was launched way back in 2005. In pursuit of young male consumers, it's since been supported with substantial marketing spend including – most significantly – sponsorship of soccer teams and motorsport events.
In stark contrast, look at Coke Life.  This bizarre stevia-spiked hybrid has been in decline since it launched in 2014. I think the reason is glaringly obvious and it's nothing to do with sucrose levels.
Coke Zero was positioned as a masculine, adventurous brand. Diet Coke provides a guilt free break for women. Original Coke is the authentic, indulgent treat. Meanwhile, Coke Life stands for… erm… er. (A prize for the best answer.)
I'd argue that with respect to soft drinks, while overall marketing spend is clearly a significant variable, messaging is way more influential. And this segues nicely into the second big question, relating to pricing.
Results for Q3/2015 reported in the New York Times, referred to Coca-Cola's acknowledgement that "it continued to benefit from raising prices slightly and reducing package sizes", thereby essentially charging customers more for less.  So, if charging more for soda doesn't stifle sales, how can a sugar tax deliver anything other than much needed revenues for the Treasury?
If you're still in any doubt that none of this hoop-la about sugar and price is simple, consider this: During the same period, there was an increase in the overall volume of all drinks sold by Coca-Cola. And while it was Coke Zero that delivered a healthy 8% uptick, good old fashioned 'fat Coke' still managed a small increase. Furthermore, Coke Zero's value sales declined over 2015, while its volume sales went up, meaning the company shifted more packs by putting them on promotion.
In short, there's not always a strong correlation between pricing and consumption of these products. Discount and you'll probably sell more but if you dial up the price, you won't necessarily sell less.
Do feel free to 'share this Coke' story…